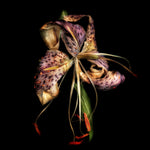 FlowerStory: Lily Transformation
I have learned many valuable lessons from my floral friends. This lily was a blooming, fancy-pink flower a week ago. Stunning, on the table in Gainey Hall, in Chattahoochee Hills Georgia, where my art was recently exhibited, it had that look-at-me blush. Now, after nearly a week, the hot pink bloom has faded and withered as it began its descent. At this point, most people would have thrown the flower in the trash. I almost did. But it spoke to me.
Intrigued, I set up a photo shoot just as I would for a freshly-picked bouquet. The soft light came from a window and nestled on the ephemeral lily which lay on the funeral-black fabric I had set up. What I saw was, to me, magic. 
In its final stages, this Stargazer lily glowed. Because time had transformed its petals, making it translucent and papery, it now reflected shades of amber and gold with a hint of lavender. It reminded me of my mother's old hands, the veins peeking through her crepe-paper skin. The stamen of the lily remained a riot of orange - a brazen contrast to the muted tones of the waning flower.
Like this lily, we all go through transformations, and age sometimes defines us. But what if, like this lily, there is more to the story that we may have overlooked? Overlooked, because we simply didn't realize that there could be more.